Guardiões da Devoção
Livros Vaisnavas
AS TRÊS GRANDES ONDAS DE SRI CAITANYA MAHAPRABHU NO BRASIL
Relato Histórico do Inicio do Vaisnavismo no Brasil em 1973, com A.C. Bhktivendanta Swami Prabhupada, e os demais momentos importantes que se seguiram com a continuidade evolutiva do Estabelecimento de Grandes Acaryas Vaisnavas, sendo Srila Sridhara Maharaja a partir de 1.980 e atualmente Srila Narayana Maharaja.
A.C. Bhaktivedanta Swami Prabhupada`s Books

Srila Bhaktivedanta Narayana Gosvami Maharaja's Books
Srila Bhakti Raksaka Sridhara Maharaja
(para ler com acentuação em Sânscrito)
A Busca Amorosa pelo Servo Perdido
Biografia de Srila Sridhar Maharaja
Inauguração do Iskcon Chandrodaya Mandir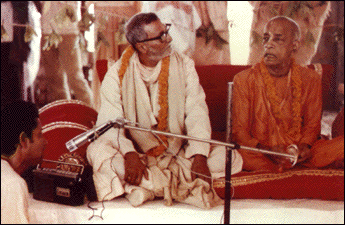 LIVROS em ESPANHOL
Em Formato PDF
Livros para baixar de Grandes Acaryas
Em Formato MS Word
A Self-Giving Attitude Is Our Friend
A Short Autobiography of Srila Bhakti Raksaka Sridhara Maharaja
Conversation with Jayatirtha Maharaja
Disappearance of Srila Bhaktisiddhanta Sarasvati Thakura
Exploitation, Renunciation, Dedication
First Two Official Meetings of Srila Sridhara Maharaja with the ISKCON GBC
Follow the Angels: The Path of Dedication
Fools Rush In Where Angels Fear to Tread
Fossilism, Hypnotism, the Cosmos
From Any Position You May Come, Join Me
God is Teaching Anti-religious Principles?
Jagannath-dev [Braja-rasa in Dwaraka]
Kavaca - Protect us from the External Difficulties
Our Freedom is Covered by so Many Conditions
Our Inner Treasure:The Spirit of the Name
Place of Solution -- Sri Nabadwip Dham
Positive and Progressive Immortality
Prayer in Separation of Srila Bhaktivinode Thakur
Reality: by Itself and for Itself
Sacrifice, Rasa and Divine Love
Sermons of the Guardian of Devotion
Spiritual Revolution
[Totalitarian War Against Illusion]
Sri Gaura-kisora Namaskara Dasakam
[Prayers to Gaurakisora Dasa Babaji Maharaja]
Srila Guru Maharaj Remembers...
Srila Sridhara Maharaja and Srila Prabhupada Conversation March 1977
The Hidden Treasure of the Sweet Absolute
Srimad Bhaktivinoda-viraha-dasakam
Surrender, But Surrender to Whom?
The Appearance Day of Srila Bhakti-Raksaka Sridhara Gosvami Maharaja
The Ecstasy Potency of the Divine
The Environment Is Your Friend
The Faults You Find May Be Your Own
The Glory of the Divine Feminine Nature
The Golden Volcano of Divine Love
The Magnanimous Nature of Sri Nityananda Prabhu
The Name of Sri Chaitanya Saraswat Math
The Quality of Our Inner Hankering is All in All
The Real Name, Shadow and Offense
The Spiritual Master and the Disciple
They Are Not Afraid Of Any Condition Of Life
Totalitarian War Against Illusion
Estamos no Ar desde 20 de janeiro de 2.003

Você é o nosso visitante nº

Agenda Vaisnava -Bhakti Yoga - Links - Comunidades Vaisnavas no Orkut - Culinária Vegetariana -Editorial - E-mail Guardiões/Fale Conosco - Livros - Notícias - Orkut - Guardiões.com - Orkut Tulasi Dev - Página Antiga - Página Principal em Português - Parampara - Relação de Editoriais e Textos - Sridhara Maharaja no Brasil - Srila Prabupada no Brasi -

ÍNDICE DE TEXTOS ANTERIORMENTE PUBLICADOS E

Quem Somos - Artes Marciais - Bhakti Yoga - Links - Livros - Fale Conosco - Acaryas